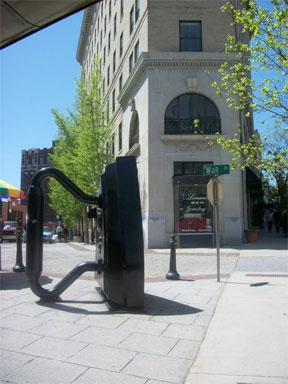 The following was written on Thursday, April 21 of 2011 and edited on the date posted.
Was it the wine going to my head or or the forecast of my horoscope? I've been thinking about some big changes; thinking about future plans. And here in this half-drunken moment, before I've even had a big reason to make a decision, seems to sit the answer to what I've been pondering for months: should I make a move?
My horoscope, read earlier today in a cafe of loud, ambient music while sipping on an iced chai, more watery than spicy, served to sum up my life, the moment, and my future in one tiny paragraph. Read in between browsing the local listings of "things to do" in Asheville, N.C., right before checking into a hostel up the street, it hit me like a surprise. Like a surprise that you've known was going to happen all along, but still are shocked to see come to life.
It reads:
"…I've rarely seen a better time than right now for you Leos to seek a cathartic rite of passage. You may even be tempted to try several. I recommend you do no more than two, however. Are you ready to break a taboo or smash an addiction? Renounce a delusion or pledge your devotion or leap to the next level?"
I'm not one to pay much heed to predictions or listen to advice coming from a horoscope in a weekly paper. But, sometimes, I do believe the stars align just so, enough to give us a glimpse of what COULD be.
Yes, I've been thinking of breaking some bad habits – who hasn't? But I have also been seriously considering traveling to India to study yoga, I have been reading various religious texts and contemplating and practicing spirituality. I thought for a good portion of my 7 hour drive to the south about renouncing a delusion I've carried on my shoulders for over 10 years, and, yes, yes, yes, I am ready to leap to the next level, whatever that may be. I tend to believe things are a coincidence before believing they are derived from fate, or the forces of nature, or God, or whatever you want to call it. And generally, I believe that horoscopes are general blurbs of bullshit that anyone could interpret to have individualistic meaning. But no matter, whether reading my horoscope at this opportune place and time was a complete coincidence or divine intervention, the fact still remains: MY HOROSCOPE WAS SPEAKING DIRECTLY TO ME. But I may be a little drunk right now.
In the hostel I have reserved a "private pod", essentially a bunk bed with a curtain. There is coffee and tea and it is clean and lovely and overlooks the busy Asheville streets of tourists and shoppers ambling to and fro the shops, cafes, restaurants, and music venues. I just came to town today; washed my face in the hostel bathroom, walked around town, and bought a new sweater, on sale for $32.
I returned to the French "comfort food" restaurant I had seen earlier on my walk, where I am presently imbibing my second glass of wine, and where I suddenly got the urge, the push, the comfort I needed to say to myself "I want to move to Asheville and write". However, typically the fleeting thoughts I have while drinking wine flee from my head as soon as it clears. But then I think back to reading this horoscope earlier, and how I really do need a change and good place to think. And I feel free when I think about such things. And, no, this decision didn't come out of thin air; I've been thinking about it for some time. There is a reason I'm here visiting the town for a second time, after all. And if I change my mind down the road, or if I am feeling uncertain or fearful of this decision later on, I can think back to this day, this time and place, and remember the awe I felt in this instant, realizing what could be possible when you listen to the stars and get rid of your inhibitions (with the aided help of a little alcohol).