Ahhh… the island of enchantment. Since this month marks five years since I first arrived on the island of singing coquis and the world's finest piña coladas, I thought I'd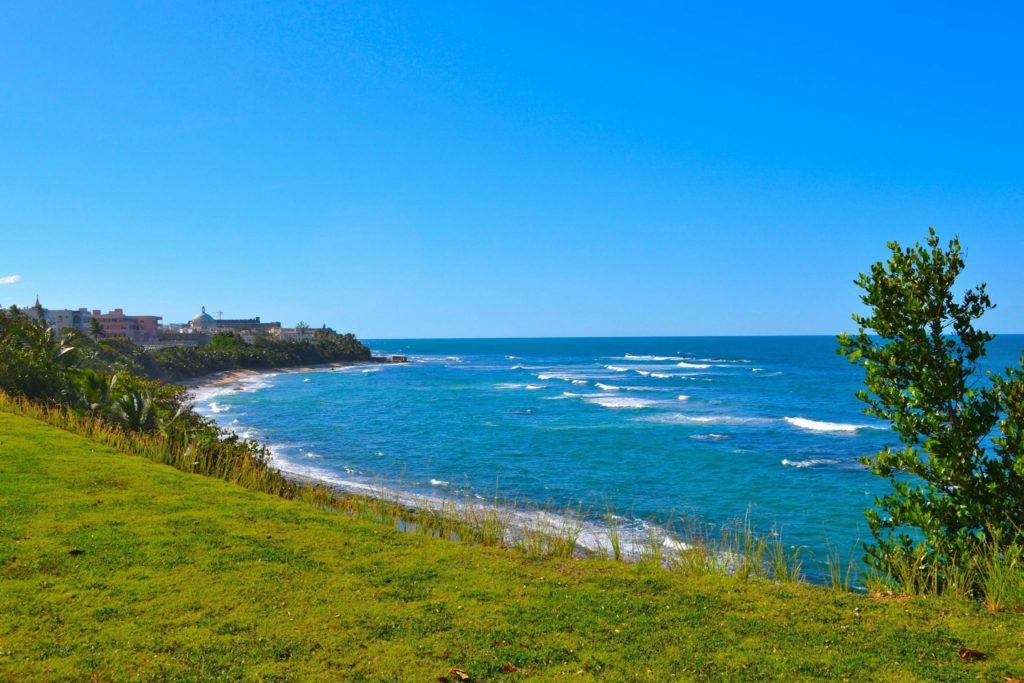 pay a little tribute. Never mind how I came about living here from the U.S., left and came back. Let's focus on why, after a non-consecutive 42 months (3.5 years) of my living here, I still love this crazy Caribbean island!
1. THE PEOPLE (LA GENTE)
When people ask me what brought me to Puerto Rico, I always say the weather and the ocean brought me here. But what gets me to stay are the people.
Puerto Ricans are known worldwide for being some of the most beautiful people in the world, but they are just as beautiful on the inside as they are on the outside.
If you've traveled abroad much you may know that natives are not always friendly to tourists. On my travels to Hawaii, for instance, I did not experience the same kind of welcomeness or friendliness.
In Puerto Rico, it is part of the culture for people to go out of their way to help people.
And Puerto Ricans especially love being helpful to tourists –  to share their knowledge about the island and get people where they need to be in order to find the perfect beach or waterfall.
Also, unlike many of the other Caribbean islands, you won't find a herd of people trying to get you to buy something from them. Since Puerto Ricans are all U.S. citizens, and the U.S. dollar is the currency, Puerto Ricans live in a similar economy as the rest of the United States. (There are lots of exceptions to this, but when compared to some other Caribbean islands, you can expect to treat Puerto Ricans as equal fiscal consumers and vendors.)
But Puerto Ricans (or Boricuas, as they are known by their Taino Indian name) are not only helpful, but also polite and friendly. Do not be surprised if, as you are walking down the street, passersby wish you "buenos dias" (good morning) or if you sneeze, you here the wish of good health, "salud" or before eating you are told "buen provecho!" (bon appetit!)
Puerto Ricans are some of the most open and laid back people I have ever met. As a "foreigner" here I need to ask for help a lot. I can not ever remember a time needing help and being turned down. If whoever I ask can not help me, they will find someone who can.
I also want to point out that it's not just the Puerto Ricans here who have made my life fuller, but also my "gringo" friends and people I've met from all over the world – Spain, the U.K., Dominican Republic, Columbia and Mexico and beyond – who are the bees knees because a) they want to explore the island as much as I do and b) they are often just as helpful as the Puerto Ricans since they also live abroad and know what it's like to be a little out of place.
I love the people of Puerto Rico. Besides being super friendly and helpful, they also know how to have a great time.
But if you don't like people there are also plenty of cats!
2. THE BEACH (LA PLAYA)
I don't think I really need to say much here … the pictures speak for themselves.
I will say that whether you are into surfing, snorkeling, scuba diving, sun bathing, kite surfing, wind surfing, paddle boarding or simply very good at drinking mojitos in the sand, Puerto Rico will not disappoint. Flamenco Beach in Culebra is often rated among the world's most beautiful beaches.
My favorite thing to do in the world may be snorkeling … something about breathing under the water and seeing this entirely different universe of colors and creatures … it is truly magical!
Above is a slideshow of some of the beaches I've been to … and I've only been to a sampling!
3. THE MOUNTAINS (LAS MONTAÑAS) 
Puerto Rico is not just about the beaches – the entire center of the island is a big mountain range, known as the Cordillera Central. In addition to the only Tropical Rain Forest on U.S. soil (El Yunque), you will find all kinds of places to see beautiful waterfalls, go canyoning (aka repelling down steep waterfalls), caving, kayaking, climbing, hiking, biking and whatever else it is you like to do in forests and rivers and mountains.
4. RIVERS / WATERFALLS / CAVES / BAYS / LAGOONS
I love being near water … especially hearing the sound of water. There is something special about the energy of waterfalls – water hitting rocks continuously for centuries – that is so relaxing and peaceful. And actually, this isn't just my perception – the idea of waterfalls making humans happier is backed by science.
The collision of water molecules generate negative ions in the air, but our bodies absorbs the negative ions as positive energy. When we breathe the ions in through the air they flow to our bloodstream, creating serotonin, which is a neurotransmitter that helps increase our energy and makes us happier. Read more about it on WebMD – Negative Ions Create Positive Vibes.
There are so many caves, rivers and waterfalls to explore on the island that I doubt I will ever see them all. I am not brave enough to try zip-lining or cliff jumping, but you can also find many of these types of adventures and tour guides to take you on them.
If you are looking for a thrilling experience, spend the day rappelling down some of the island's most beautiful waterfalls at Doña Juana Canyon Adventures.
If you like a more low-key adventure, Condado Lagoon is great for paddle boarding!
---
5. FROGS (COQUIES) AND OTHER ENDANGERED AND RARE SPECIES
There is a tiny frog indigenous to Puerto Rico called the Coquí, named for the sweet and short song he sings, "co-key, co-key". These little frogs make a very loud noise and it is difficult not to hear them.
I live in the middle of the city in San Juan, and coquís put me to sleep every night. I have yet to ever SEE one, as they are very small and like to hide.
Even though it may seem like there is an abundance of coquís on the island, a few breeds are in danger of extinction. Two of them are already extinct – the Coquí Dorado and the Coquí Palmeado. Learn more about the Coquí here.  Or you can watch this video below.
LEATHERBACK TURTLES
In addition to Coquís, there are also Leatherback Turtles that come to the shore and lay eggs. They leave their eggs (usually around 100 eggs) in a deep hole they dig in the sand and then head back to the ocean.
The eggs take a few weeks to hatch and when they do, the little baby turtles have to make their way back to the ocean. They are ADORABLE.
Also an endangered species, there are several volunteer groups that help look out for the turtles and help their hatchlings make it back into the ocean. I was lucky enough to have been with some friends and found some baby turtles breaking free from their shells one evening.
We called the Ocean Park volunteer group's number and with 20 minutes there were about 15 other people all helping the 50 or so baby turtles start their new life.
Because of light pollution, the turtles are often confused when they hatch and go in the wrong direction. The volunteers help guide the way for them, allowing them to gain the strength they will need to survive in the ocean.
To learn more about other endangered species in Puerto Rico, like the Manatee and the Puerto Rican Amazon Parrot, there is a wonderful PBS Nature show called Viva Puerto Rico that you can stream on line.
According to PBS, "There are important conservation efforts underway in the Commonwealth of Puerto Rico to protect its endangered native wildlife from extinction on land and sea. Once home to ancient rainforests that covered the Caribbean island when Columbus first landed in 1493, centuries of development have impacted Puerto Rico's rich natural resources. By 1900, only five percent of its rainforests remained, causing a major loss of habitat."
6. THE SYMPHONY AND THE ARTS
Whether I want to see an indie rock show, a live salsa band, a jazz band, or spend the evening at the symphony San Juan, Puerto Rico has it going on. From Reggae to Bomba and Plena, Merengue and Bolero to Jíbaro music (Hillbilly music) and even Flamenco music and dance, there is no shortage of melody.
I imagine I could also go somewhere to listen to Reggaeton … but I won't! 🙂 I have even seen a first-rate Indian classical music concert here. And a Bon Jovi cover band. Also, Madonna. Ok, ok I admit I did go to a Don Omar concert once.
A bonus about the Orquesta Sinfonica de Puerto Rico is that it is not as expensive as it is to see the symphony in any other major U.S. city – $10-$65 versus $100-$500. And they are just as good as any other top-rated symphony, IMO!
Besides music, there is a lively art scene, cuisine, theater and many, many super-talented people that make life on the island so very intriguing.
7. CITY LIFE – SAN JUAN IS A MAJOR CITY
I think I already mentioned that I love the beach and the symphony … but did you know I can walk to both from my apartment? Plus, housing here is super affordable when
compared to other major U.S. cities near the beach like San Diego, Miami, etc. In San Juan I get the best of both worlds – beach life and city life, not to mention, if I want to drive 45 minutes I can be in the mountains.
The city has everything I really need from health food stores and organic grocery stores to urban farmer's markets, not to mention doctors, dentists, hospitals, etc.
According to World Population View, San Juan has a city population of 418,140 in 2017. That ranks it slightly behind Miami, FL (441,003) and way ahead of Pittsburgh, PA (304,391).
Add to the fact that Puerto Ricans often travel frequently to and fro New York City, they bring back with them a cosmopolitan air. You can see it in the fashion, but it is also evident in the art, food, music and theater.
Shopping here is also fantastic (despite that nasty 11.5% tax!) Because San Juan is the "New York City" of the Caribbean, people from the other islands come here to shop, making for a rather high-end experience at both the largest mall, Plaza las Americas, and the new (higher-end) Mall of San Juan.
And – not sure if this is good or bad – but there are a plethora of U.S. chain stores and restaurants from Chili's and Starbucks to Lulu Lemon, Victoria Secret and Macy's, plus a Walgreens or CVS on practically every corner.
Of course, as any major city, San Juan also has its share of problems in crime and poverty, so it's not all roses. But living in a city always has its advantages.
8. BEING IN A DIFFERENT … COUNTRY? STATE? TERRITORY?
Yesterday, the Statehood party in Puerto Rico that wishes to be the 51st U.S. state held elections to see who is in support of Statehood. It won in a landslide, but only something like 23% of Puerto Ricans voted – the rest were boycotting the election completely. Normally voting percentages are around 80% in Puerto Rico, so I'm not sure about the validity of the election results.
The status of the island as a U.S. Territory has a long history of contention. I am staying out of the politics here, and just want to share with you the benefits of being a person from the U.S. living in Puerto Rico.
U.S. citizens do not need a passport to travel to Puerto Rico. Come visit me!
The currency is the same; I don't have to constantly try to adjust currencies in my head or in a bank.
My cell phone works here and most cell phone service providers do not charge overseas fees if you are using a mobile plan from the States.
I get to be in a different culture, but not be too far from "home". It's easy to get a flight to and from the U.S.
I am able to practice and try to learn Spanish here, but I can always fall back on my English, because many people in Puerto Rico speak both English and Spanish very well.
Every time I go to Viejo San Juan (Old San Juan) I feel like I am in Europe. Actually, when I went to Spain last year I thought to myself, while staring up at all the Spanish architecture and wrought iron balconies, I could have saved a lot of money by simply going to Viejo San Juan!
9. THE VIBE
There is a word in Puerto Rico, you hear quite often — tranquilo. It can be translated literally in English to calm or tranquil, but the equivalent would be more like "chill".
There is a very relaxed and chill vibe here. I feel it in San Juan, but it is especially felt in the Western beach and surf towns of Rincon, Aguadilla and Isabela.
Part of this could be because Puerto Rico is home to the Bacardi Rum Factory, but another big part is because the people here really know how to relax and have a good time. They know how to have a party, throw a party and any weekend there are a number of festivals and fun things happening.
The biggest party of the year is San Sebastian Festival in Old San Juan that takes place at the end of the loooong Christmas holiday here, around the third week in January. It is LOUD; see pictures in the slide show above.
10. THE FOOD (LA COMIDA)
There would be something seriously wrong with me if I didn't discuss the food in Puerto Rico. I've been asked by a lot of people what the food is like here – is it Mexican, they ask? Nooooo…. it's not Mexican. They aren't too many Mexicans in Puerto Rico, so why would there be Mexican food?
If I am forced to describe it, I say it is Caribbean food, with loads of root vegetables and fresh fish, etc. But the truth is, it is difficult to explain because there are so many types of foods here. It is definitely not spicy: more on the salty, sweet and greasy side of things – in other words: super tasty!
The most famous dish in Puerto Rico is Mofongo which is smashed up plaintains that can be served as a side dish or as a main entry stuffed with chicken, meat, shrimp or jueyes, which is an amazing crab meat. Another local favorite are pinchos -BBQ chicken on a stick.
Everywhere in Puerto Rico you will find kioskos (kiosks) that can served bacalaítos (cod fritters), alcapurrias (usually a gluten free fried batter of taro root with stuffed meat, crab or lobster inside) pastelillos/empañadas (turnovers stuffed with meat). You can wash them down pretty nicely with a Medalla or Magna (the local beers).
Puerto Rico is famous for its lechoneras or pork roasts. You can see pigs roasting along side the road most places in the country side, but there is one area particularly known for lechons – Guavate.
If being vegan or vegetarian is your style, you may have a hard time getting by outside of San Juan, but in the city more and more vegan and veggie restaurants are opening and
there are more options for staying meatless in restaurants. Fresh fruits also run rampant – papaya, mangoes, quenepas, and little bananas are my favorites. Wash those down with a cold coconut water and you will be completely refreshed and hydrated.
The breads in Puerto Rico … maybe thanks to the Spanish(?) are amazing. Agua de pan (water bread) is my favorite. Pair it with sopa de pollo (chicken soup) and you will be in heaven.
The sweets are also insane. I can never decide between tres leches or flan de coco. And if you see something called a quesito … a cream-cheese filled crossiant — grab it and enjoy it with a cup of Puerto Rican coffee.
Puerto Rico, in my opinion, cultivates the best coffee in the world. When I travel, I take it with me because I can no longer withstand any other type of coffee. (Except maybe Indian coffee, which is a close call.)
Wow, there is so much good food here, I didn't even mention rice and beans, a staple. I know that to many people rice and beans don't sound appetizing – but they make them really well here and I find myself craving them often. YUM.
---
So I guess these ten reasons are a big part of why I stay here on this lovely island! While parts of living here have been difficult adjustments and I do miss my family bunches, I continue to learn and grow here and this island is making me a better person – I definitely have acquired more patience and tolerance, a disposition for "letting go" and certainly a more easy going attitude.
To close, here is captivating music video highlighting the beautiful and hard working people of Puerto Rico: